MESSAGE FROM THE CHIEF EXECUTIVE OFFICER
Strength, Stability and Growth.
Looking back on my first year as Magna CEO, I'm filled with gratitude for the opportunity to lead a resilient team with a clear sense of purpose, consistent values, and the ability to continue delivering for our key stakeholders during these unprecedented times.
Executing on our Go-Forward strategy, we continue growing the business, expanding margins, generating solid free cash flow, returning capital to shareholders and accelerating investment in the car of the future. Our key stakeholders can count on us for a successful combination of strength, stability and growth.
Our solid balance sheet positions us to weather downturns in the economy or geopolitical uncertainty, while providing us with the flexibility to invest in megatrend areas such as electrification and autonomy. We will continue to have a disciplined approach to investing in the future of mobility, one that can see beyond quarterly results and short-term industry dynamics. This enables us to capitalize on the tectonic shifts in the industry, even as we meet the current needs of the market.
From the shop floor to management, we operate at high velocity even in these challenging times. Our entrepreneurial culture provides Magna with the scope and capabilities of a large company, and the spirit and ingenuity of a small one. This start-up mentality is the backbone of our business model, and why we are confident in the future.
While the global industry grappled with significant challenges in 2021, including the ongoing pandemic, supply-chain disruptions and semiconductor chip shortages, Magna forged ahead, delivering new innovations as automakers race toward an electric future. We posted encouraging results, with full-year sales of $36.2 billion, up 11% from the previous year, even as global light vehicle production rose just 4%.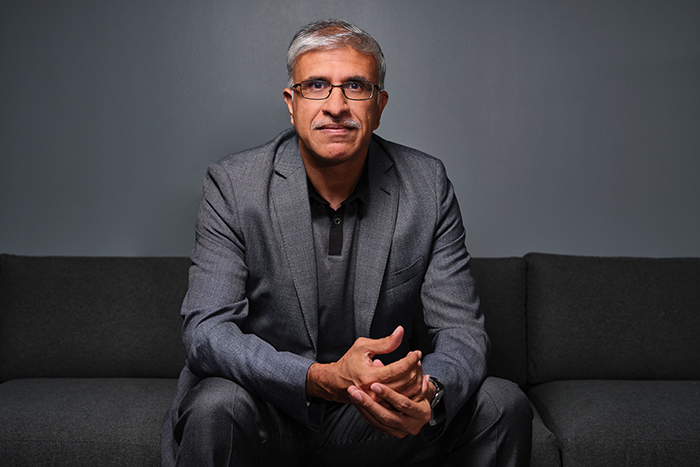 Swamy Kotagiri
Chief Executive Officer
With our in-depth vehicle knowledge and systems solutions, our customers can depend on us to provide the answers to any mobility challenge.
Swamy Kotagiri, Magna CEO
Despite the current industry challenges, we anticipate a more favorable production environment extending into 2024. About 90% of our 2024 sales are already booked, and our engineering investments in megatrend areas such as electrified powertrains, are expected to increase. The step-up in our investments for megatrend areas will impact our margins in the short term but will drive growth in the longer term.
Today, a large portion of our engineering projects are related to the growing EV market. In addition, we are investing in ADAS and software, areas which will define a large part of the vehicle going forward, and we continue to look at the car of the future from a holistic view.
We are poised to capture opportunities in mobility with our systems approach, our powertrain offerings that are accelerating the transition to EVs, and our unique complete-vehicle capabilities. From top universities to traditional customers and exciting new entrants, we are collaborating with innovators across the entire mobility spectrum.
Our formula for success in a changing landscape is proven and effective: Stay on a steady course, focus on Magna product strategies, invest in the business and create value for our shareholders.
Working with a talented, collaborative team leveraging the power of Magna makes me optimistic and excited about our future as a high-performing company that continues to generate sustainable value over the long run. With our in-depth vehicle knowledge and systems solutions, our customers can depend on us to provide the answers to any mobility challenge. As always, I thank you for your support of our efforts as we celebrate our 65th year, another milestone in the storied history of Magna.
Sincerely,
Swamy Kotagiri
Chief Executive Officer
Committed to a Sustainable Future.
Concern for the environment is central to who we are and what we do at Magna. Last year we committed to being carbon neutral in our European operations by 2025 and globally by 2030, placing us among industry leaders. Some of our divisions have already exceeded those ambitious goals, because we get down to the shop-floor level when it comes to sustainability.
While energy, water, and natural gas conservation are important to sustainability, they are just part of the equation for us. We think bigger. It's about protecting our common home and making a better society overall.
This is why so many Magna employees around the world plant tens of thousands of trees each year, tend beehives, cultivate wildflowers, and ride bikes to work. We know we are all responsible for meeting our sustainability goals.