The Power of Magna:
A Competitive Advantage
The Power of Magna is an ecosystem of interconnected products and complete vehicle expertise designed to deliver solutions like no other supplier can. Our unique approach leads to the development of highly integrated systems that deliver the needs of mobility.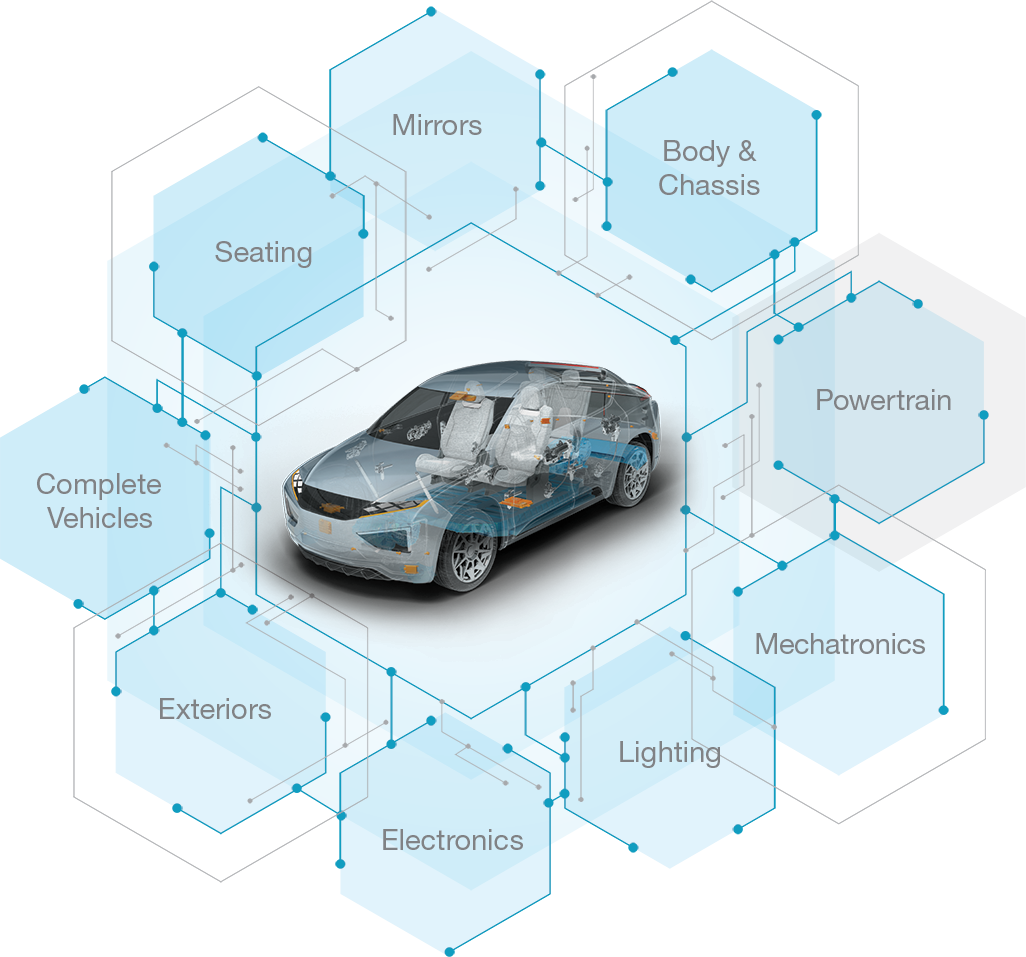 Deep product expertise
Integrated systems level analysis and approach
Complete vehicle engineering and manufacturing
The automotive industry is accelerating at a rapid pace toward a systems-defined vehicle, with great emphasis on electrification, lightweight structures, high-efficiency powertrains, intelligent control systems, as well as improved comfort and safety. A systems-defined approach will drive changes to future vehicle architectures, design and assembly processes, and sourcing through the supply chain.
Our competitive advantage in manufacturing, product capabilities and complete vehicle expertise uniquely positions Magna for this paradigm shift – bringing new opportunities for our integrated systems solutions across the entire vehicle. Some examples include:
Etelligent Powertain Systems
Our growing family of Etelligent powertrain systems offers a modular approach to electric drivetrains, supporting the acceleration of EV adoption.
EtelligentReach is an all-electric connected powertrain that can increase driving range by up to 90 miles.
EtelligentForce electrified axles can be placed into trucks without reducing payload and towing capability.
EtelligentCommand offers improved electric range with uncompromised performance for plug-in hybrids.
Driver Monitoring Systems
We leverage our systems approach and global expertise to deliver state-of-the-art solutions to address concerns about distracted driving. Our Driver Monitoring Systems combine our industry leading ADAS camera and interior mirror technology to provide an unobstructed view of the driver's face and body. This integrated approach helps to eliminate engineering complexity, resulting in significant cost savings for our OEM customers.
SmartAccess
Magna's SmartAccess platform is a complete power door system that reimagines traditional vehicle access experiences. Combining our expertise in structures, body-in-white, exteriors and mechatronics, this unique solution eliminates the need for a b-pillar, improving access to the vehicle cabin. Intuitively designed to offer customizable Human Machine Interface solutions such as gesture or tactile touch, this advanced technology opens the door to infinite possibilities.
Mezzo Plus Featuring Morphing Surfaces
Turning possibilities into reality, we are evolving the exterior of a vehicle. Our first-to-market aerodynamic system can change the exterior shape of a vehicle and adapt to reduce emissions, improve fuel economy and extend range. The morphable surface is a seamless front panel that integrates sensors, cameras, radar, functional lighting, and communications features that are ideal for the car of the future.
Seating of the Future
Combining our expertise in complete seating systems with our electronics capabilities, we can deliver innovative products like our Zero-Gravity seat, which mimics the body's relaxed posture when floating in space. In addition, by offering a central electronic control unit (ECU), we can eliminate multiple seat ECUs to reduce complexity and cost for our customers.