You've heard about our Mezzo Panel but have you heard about our latest Mezzo Plus?
The exterior of the vehicle is becoming even more important when talking about automotive trends like electrification and autonomy. As more electric platforms are introduced in the market it's important to understand that their cooling requirements move lower in the vehicle than internal combustion engines (ICE). This presents an opportunity for our first-to-market Mezzo Plus, a seamless large decorative front panel on the face of the vehicle. This front panel can integrate sensors, cameras, RADAR and functional lighting. Communications features are also possible with opportunities for decorative lighting, words or symbols like battery charging status.
The Mezzo™ Panel offers a fresh canvas for designers. We can essentially hand designers and engineers a paint brush to create adaptations of current vehicle designs or start fresh on a blank, customizable surface to redefine brands for future electric and autonomous vehicles.
Integrated Decorative Lighting
Lit surface decoration finishes including chrome, paint, and film effects
Hidden-until-lit lighting features
Animated lighting capability
Multiple offerings for lightings technologies
State of the art sensor functional integration
Improved safety & communication
Homogenous signal transmission
Freedom of design
True depth of image
Seamless Integration. Seamless Possibilities.
What features are you looking to integrate?
First-to-market, large-format decorated front panels using in-mold film. These panels integrate state-of-the-art sensors, camera, and light technologies to enable unique OEM brand distinction. Through combining innovative materials and process technologies, our Front Integration Panel technology can achieve a high-quality lens that seamlessly integrates these features.
An evolution of Mezzo™, the Vision™ Panel is a full front-end concept with functional and decorative elements integrated into one seamless module. Integrating state-of-the-art sensors, cameras, lighting and aerodynamic technologies. Magna's Vision™ Panel enables ADAS capabilities, aerodynamic functionality and allows OEM's unique brand distinction.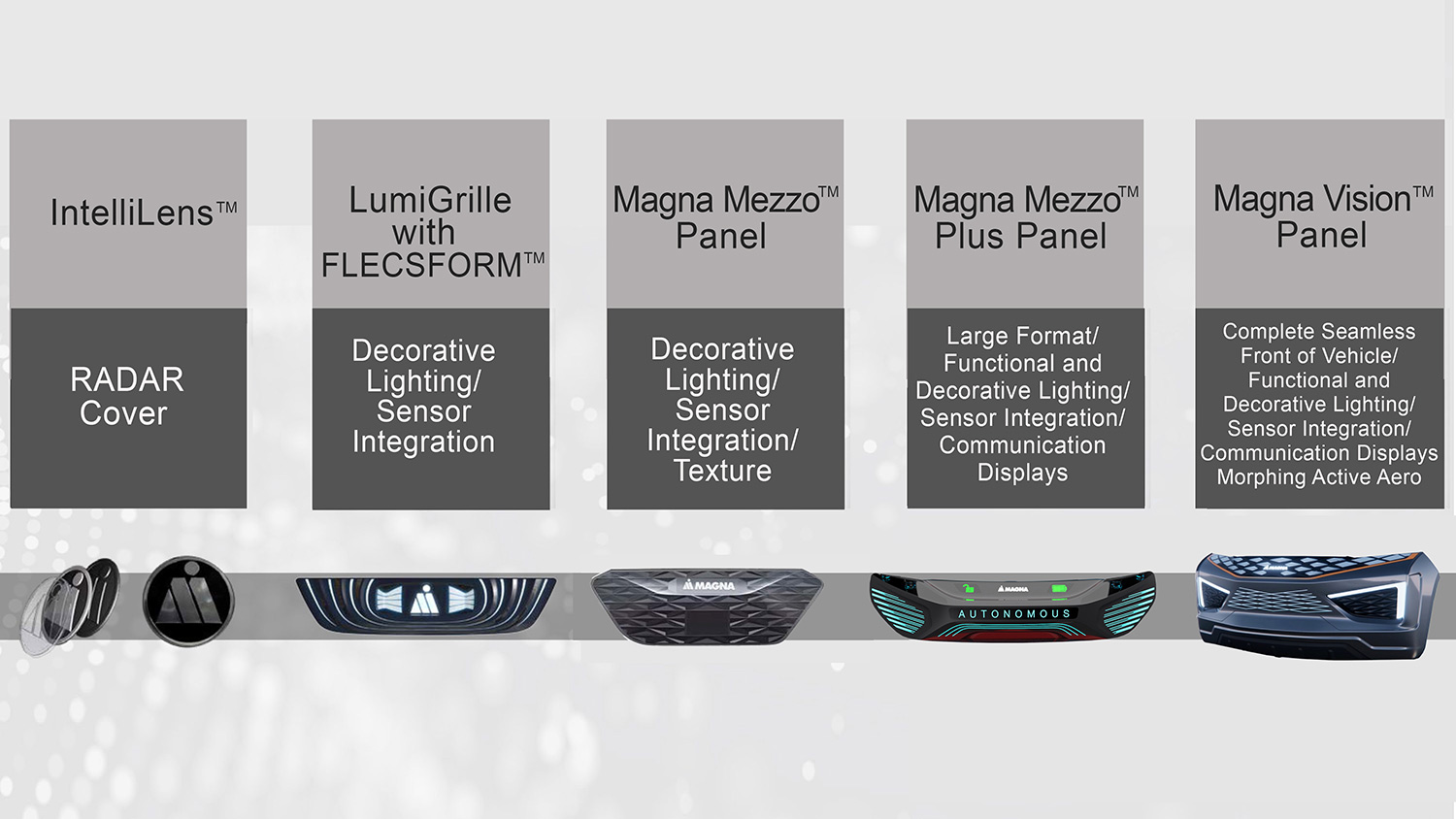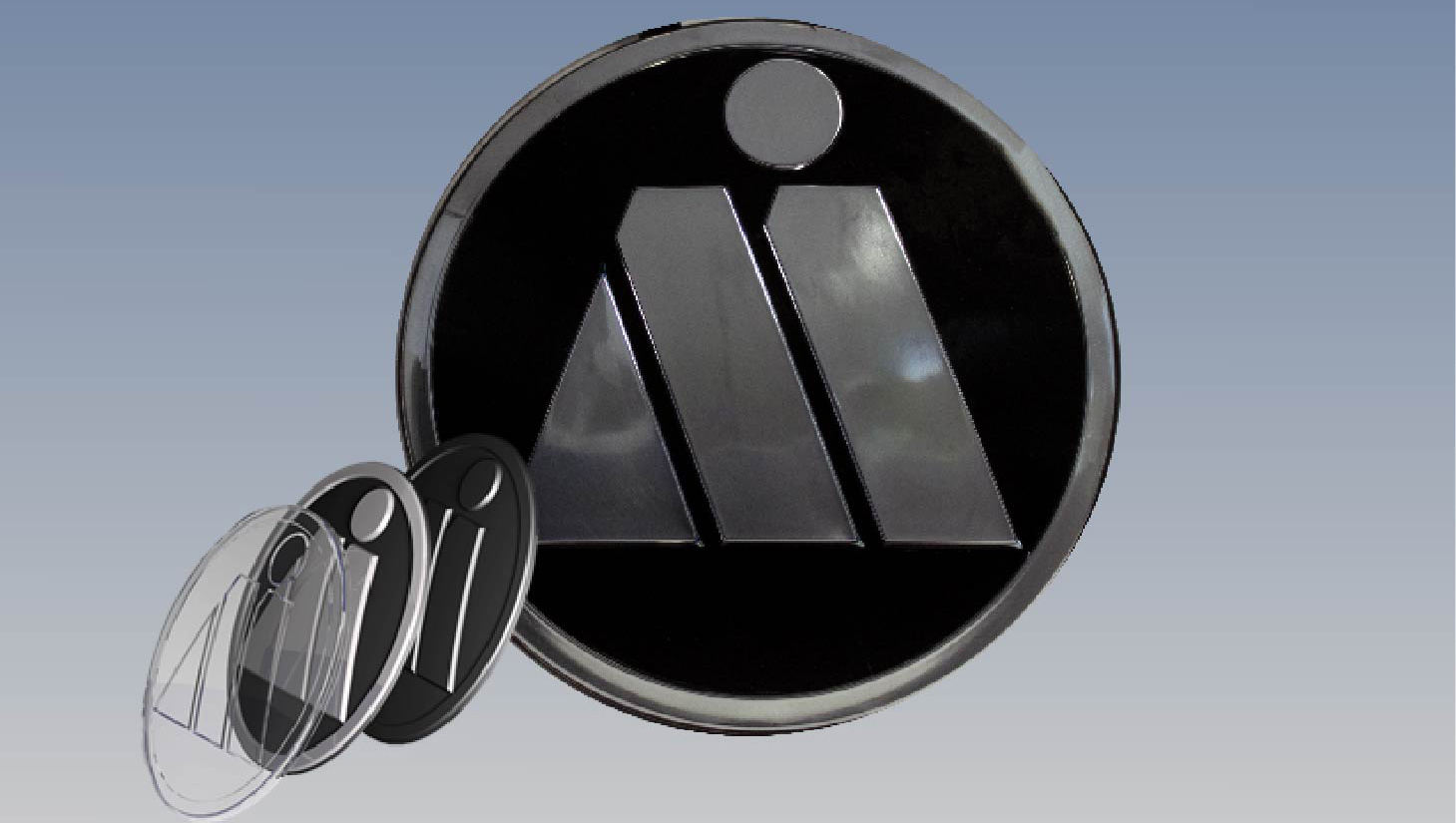 Magna's radar cover/sensor integration panel offers homogeneous signal transmission and reception through the elimination of joining or bonding of components after molding.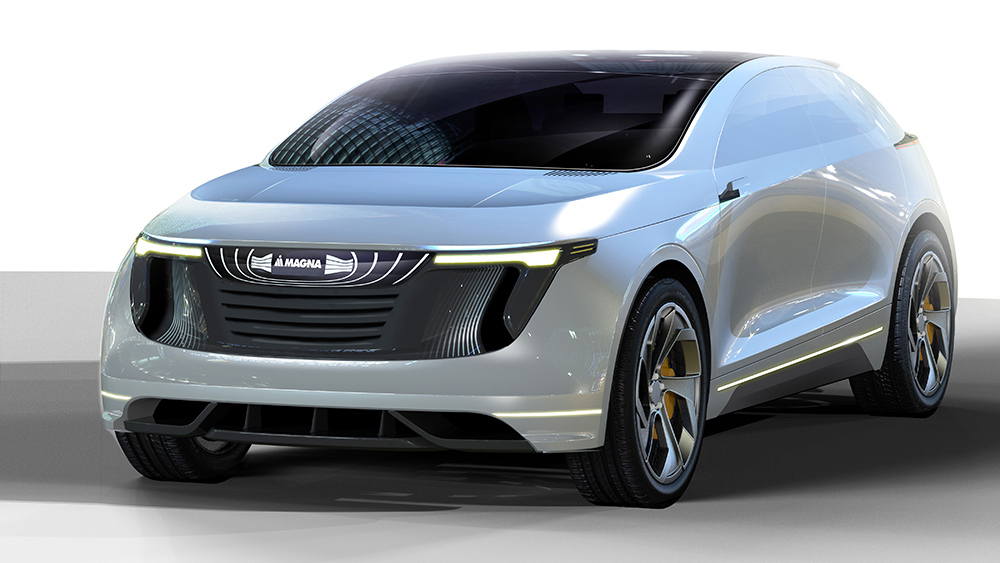 LumiGrille with Flecsform™
Reimagined grille with innovative Flecsform™ lighting technology (or state-of-art light engines) enabling a thin, hidden-until-lit panel. Combining innovative materials and process technologies to achieve a seamless homogenous lit surface.