New Functionality & Styling Possibilities
Lightweighting trends have "opened the door" to our thermoplastic rear access solutions. Aggressive exterior styling not possible before is enabled by material science and innovation. Our one piece structural design allows for component integration while reducing customer investment and increasing assembly efficiencies.
Get in touch with Magna's Liftgate team to see how we can help satisfy your liftgate needs.
Magna Reimaging the Liftgate
We have various rear access solutions to fit your needs from the traditional liftgate to swing doors, and tailgates.
20 to 30 percent lighter than traditional steel solutions, helping reduce the overall weight of the vehicle
Open canvas for design possibilities
Perfect for different vehicle architectures such as ICE, electric or hybrid while optimizing range
Enhancing the user experience with lighter openings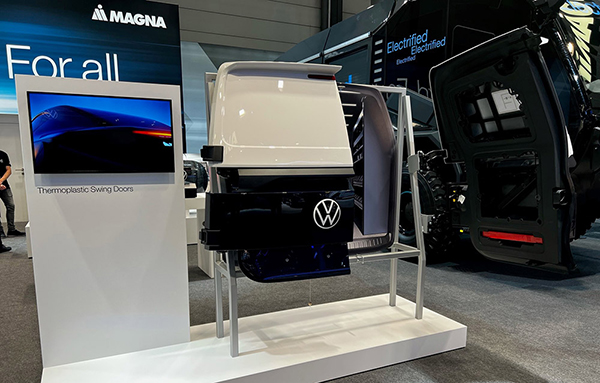 Introducing the first ever thermoplastic swing doors
From carrying cargo to working on the job site, consumers have the option to choose their preferred method of rear access solutions to fit their lifestyle; a traditional liftgate or split swing doors. Both thermoplastic solutions are supplied as ready-to-install modules. This helps to reduce production time and improve line efficiency while saving on cost.
Magna Reimaging the Liftgate