Enhancing the driver experience through intelligent and stylish vision systems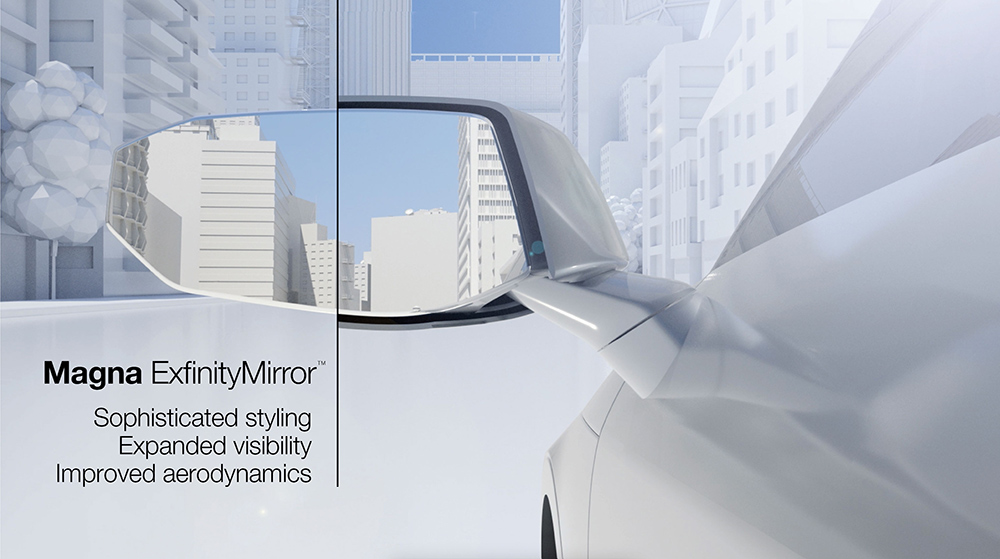 As the global market leader in exterior mirror systems, Magna's expertise combines deep systems knowledge, in-house capabilities and unparalleled designs to bring forth cutting-edge innovations.
Smart, sleek and sophisticated, the ExfinityMirror™ eliminates the frame of the mirror by adding a highly polished glass edge allowing for unique styling possibilities and improved forward visibility. The ExfinityMirror™ provides the vehicle improved aerodynamics and water management that support sustainability goals and enhance the overall driving experience.
Crafted to expand visibility
Magna's ExfinityMirror™ represents a design evolution that moves forward from the traditional rearview paradigm. The reduced packaging size enhances forward visibility to help expand the driver's field of view.
Beautifully crafted, Magna's ExfinityMirror™ reconceptualizes the vehicle exterior with its jewel-like appearance. Inspired by our award-winning InfinityMirror™, the ExfinityMirror™ offers ultra-sleek styling possibilities.