News Release - Magna Recognized by General Motors as a 2018 Supplier of the Year
• GM awards top suppliers globally that have exceeded expectations, created outstanding value or introduced innovations
• 3rd time Magna has been awarded for driveline systems
• Systems provide improved performance and safety, lower fuel consumption and emissions
Click here for the PDF version of the release
AURORA, Ontario, June 5, 2019
– At General Motors' 27th annual supplier awards held recently in Detroit, Magna was recognized as a Supplier of the Year for its driveline systems technologies. It marks the third time Magna has received the award for driveline systems supplied to GM vehicles.

During the event, GM recognized its best suppliers across 15 countries that have consistently exceeded GM's expectations, created outstanding value or introduced innovations to the company.

"We hold our suppliers to a high bar," said Steve Kiefer, GM senior vice president, Global Purchasing and Supply Chain. "They went above and beyond to deliver the innovations and quality that will help us earn customers for life."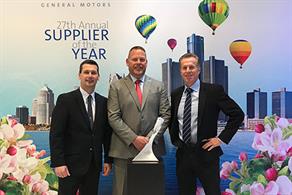 (L to R) Magna's Joe Mueller, Larry Cheney and
Don Walker accepting the General Motors 2018
Supplier of the Year Award.

Magna's award-winning powertrain teams supply GM with transfer cases for their full- and mid-sized trucks from Ramos Arizpe, Mexico, and for the Cadillac CT6 from Muncie, Indiana. Additionally, Magna supplies an electronic limited-slip differential system for Camaros and Corvettes from its plant in Lansing, Michigan.

"On behalf of our entire powertrain team, thank you to General Motors for selecting us for this honor," said Magna CEO Don Walker. "We take great pride in supplying industry-leading driveline systems that improve performance and safety while also contributing to lower fuel consumption and emissions."

The Supplier of the Year award winners were chosen by a global team of GM purchasing, engineering, quality, manufacturing and logistics executives. Winners were selected based on performance criteria in Product Purchasing, Global Purchasing and Manufacturing Services, Customer Care and Aftersales, and Logistics. 

TAGS
General Motors, auto supplier awards, driveline systems

INVESTOR CONTACT
Louis Tonelli, Vice-President, Investor Relations 
louis.tonelli@magna.com, (+1) 905.726.7035

MEDIA CONTACT
Tracy Fuerst, Global Director of Corporate Communications & PR
tracy.fuerst@magna.com, (+1) 248.631.5396

ABOUT MAGNA 
We are a mobility technology company. We have more than 169,000 entrepreneurial-minded employees and 338 manufacturing operations and 89 product development, engineering and sales centres in 28 countries. We have complete vehicle engineering and contract manufacturing expertise, as well as product capabilities which include body, chassis, exterior, seating, powertrain, active driver assistance, electronics, mirrors & lighting, mechatronics and roof systems. Magna also has electronic and software capabilities across many of these areas. Our common shares trade on the Toronto Stock Exchange (MG) and the New York Stock Exchange (MGA). For further information about Magna, visit www.magna.com.

# # #

THIS RELEASE MAY CONTAIN STATEMENTS WHICH CONSTITUTE "FORWARD-LOOKING STATEMENTS" UNDER APPLICABLE SECURITIES LEGISLATION AND ARE SUBJECT TO, AND EXPRESSLY QUALIFIED BY, THE CAUTIONARY DISCLAIMERS THAT ARE SET OUT IN MAGNA'S REGULATORY FILINGS. PLEASE REFER TO MAGNA'S MOST CURRENT MANAGEMENT'S DISCUSSION AND ANALYSIS OF RESULTS OF OPERATIONS AND FINANCIAL POSITION, ANNUAL INFORMATION FORM AND ANNUAL REPORT ON FORM 40-F, AS REPLACED OR UPDATED BY ANY OF MAGNA'S SUBSEQUENT REGULATORY FILINGS, WHICH SET OUT THE CAUTIONARY DISCLAIMERS, INCLUDING THE RISK FACTORS THAT COULD CAUSE ACTUAL EVENTS TO DIFFER MATERIALLY FROM THOSE INDICATED BY SUCH FORWARD-LOOKING STATEMENTS. THESE DOCUMENTS ARE AVAILABLE FOR REVIEW ON MAGNA'S WEBSITE AT WWW.MAGNA.COM.