When Magna's crash test dummies go on a road trip to local schools in Germany, the first question from children is usually "can they speak?"
Some of the dummies are so lifelike that "touching their hand feels like touching a human hand," explains Stephan Baumann, who runs the Magna clinic where dummies go for checkups. That means having their instrumentation tested, certified and once a year recalibrated after undergoing crash tests – usually 30-100 a year depending on the dummy type.
Introducing kids to the dummies, usually one that's the size of a three-year-old, starts the conversation about the need to buckle up. Students also learn how dummies provide information that helps improve vehicle safety. They get a peek at the instrumentation in various parts of the dummies' bodies – and gain insight into Magna careers in automotive safety.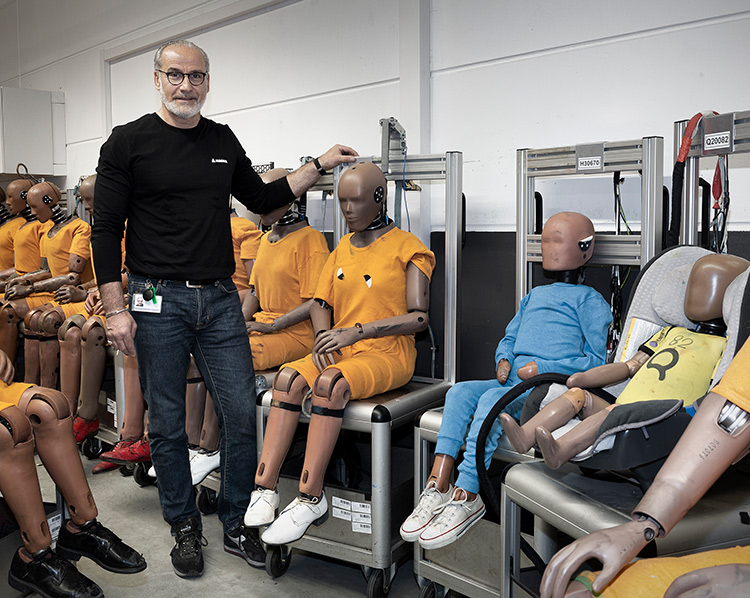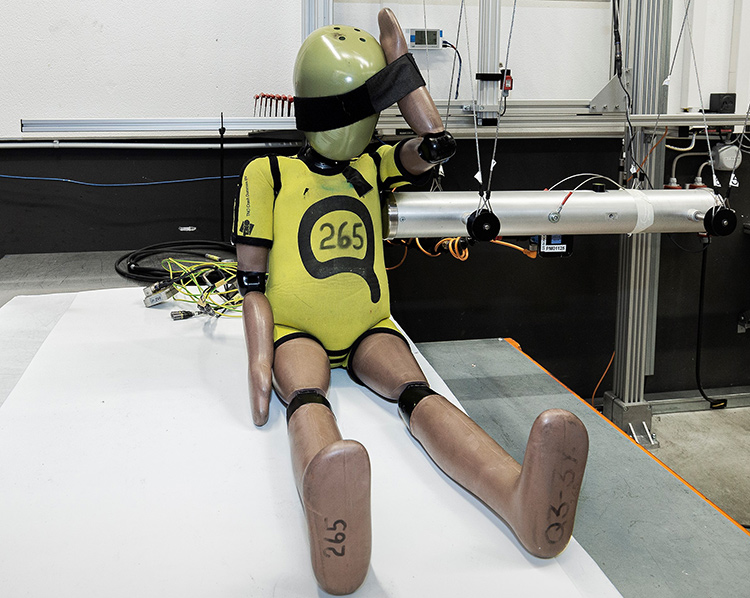 Baumann, the manager of operation service for Magna testing center in Sailauf, Germany, has a personal story that should pique the interest of any future engineer or car lover.
A hands-on guy with a desire to learn more, Baumann began his career as a mechanic in the car repair shop managed by his father in Aschaffenburg, Germany. He joined Magna as a technical assistant, the first step in a 23-year career focused on car safety and reducing accidents. A series of promotions led him to his work in the clinic.
"Not many people in the world can say they are working every day to make roads safer," said the father of three who zips around on a black Vespa motor scooter on weekends. "That's my job – and why Magna is making a better future for everyone on the road."
"Not many people in the world can say they are working every day to make roads safer."
- Stephan Baumann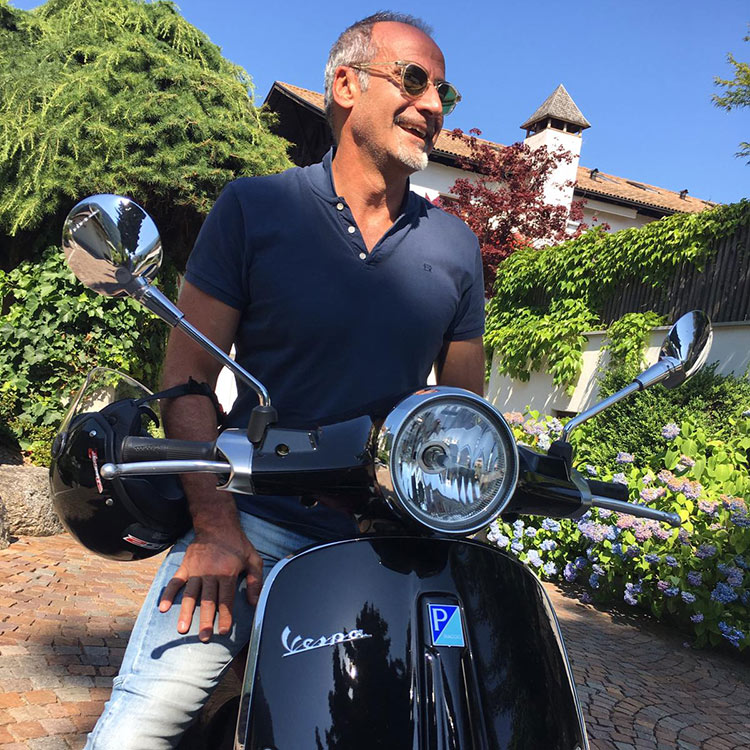 Community service in schools is a sideline activity for Baumann and the four technicians in the crash test dummy clinic. Their main task is caring for Magna's 39 dummies in the facility. Most of the dummies are used in frontal crash tests; the eight used for side-impact tests have no forearm or hand, since the main objective is to measure force on the body's trunk.
In addition, the clinic conducted over 400 dummy certifications in 2022. Magna is one of only a few certified automotive suppliers offering this service of certification and re-calibration to suppliers and automakers. It also rents and transports dummies to suppliers and OEMs conducting their own vehicle safety crash tests. Checkups on the many test benches are also done on dummy components, such as heads and legs, that are used in pedestrian crash tests.
The Magna family of dummies ranges from an 18-month-old to Thor 50-M, a futuristic-looking male dummy with ribs and human-like knees. With 175 measurement points, Thor 50-M provides more detailed crash information than the older dummies.
Taking care of the dummies also means supervising their wardrobes: orange t-shirts and shorts, as required by government regulations, along with black shoes for the male dummies and white ones for women. The team refers to the dummies by number, not nicknames, although they are clearly fond of them. They are rarely called by their formal name Anthropomorphic Test Devices.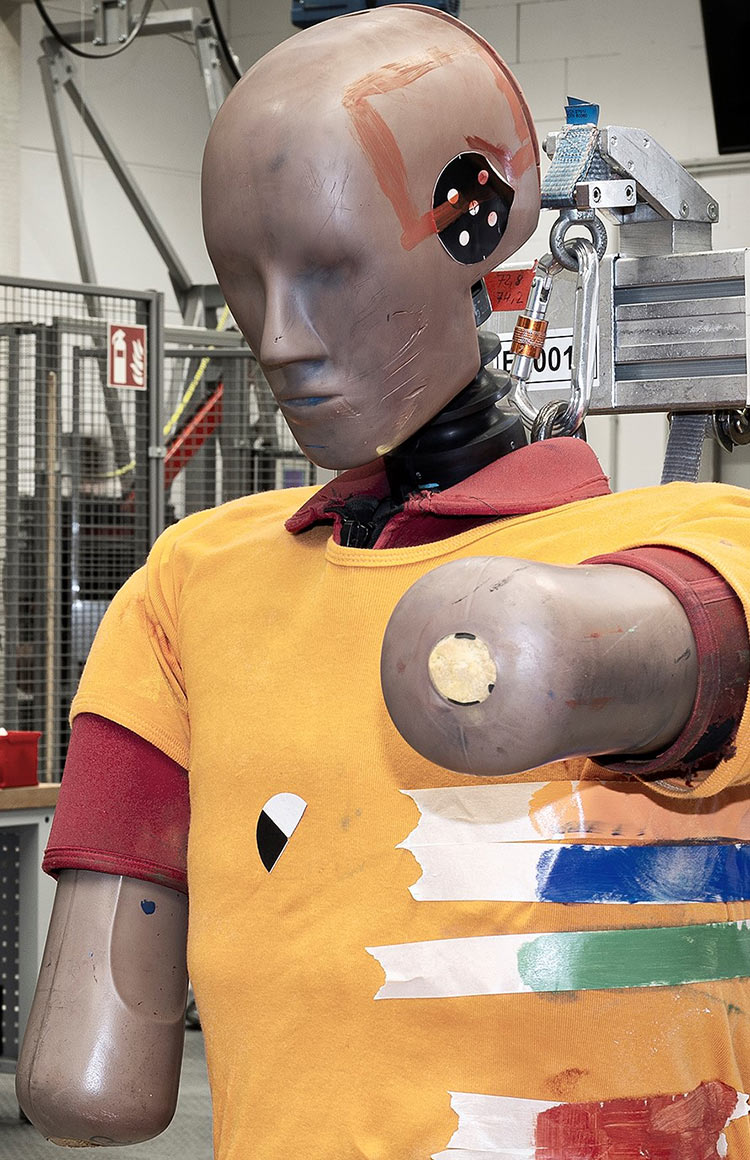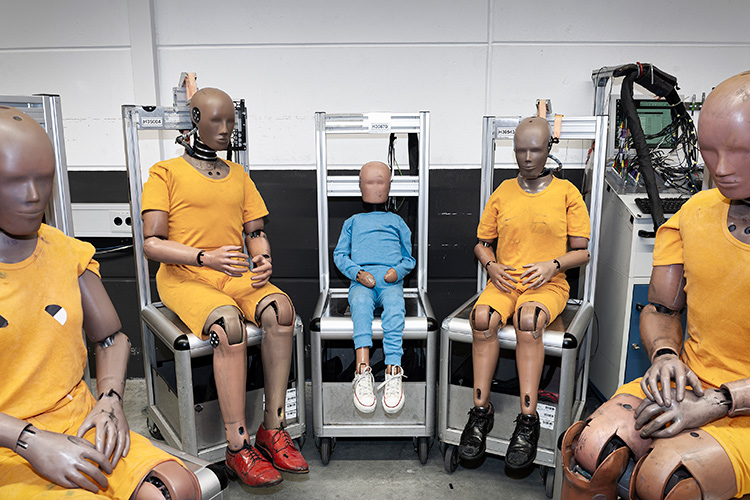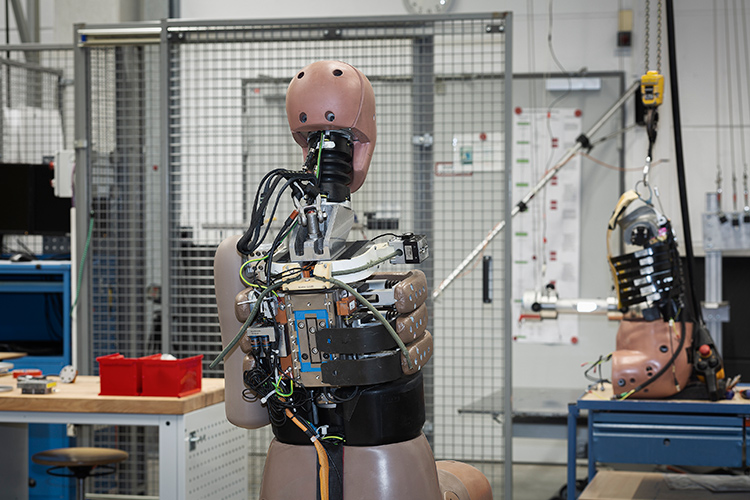 During a crash test, instruments inside the dummies measure forces, helping to estimate the potential for different injury types to a human vehicle occupant, including injuries to head, chest and hips.
"After each test we check the dummy to make sure every measurement device works well," said Baumann. "If the safety system works well, there is no damage to the dummy."
The dummies are used to check passive safety systems, such as seatbelts and airbags, and vehicle crumple zones. But Baumann also is proud of Magna's technologies in active safety systems, such as advanced driver assistance systems that use vision and camera technology.
While the first dummies were patterned after men, today's crash test dummy technology is evolving to the point where a new generation of dummies can better replicate men, women, and children's unique physiologies. Data provided by advanced female dummies could result in changes to car design at the seatbelts, headrests, airbags, pedals and more.
"Dummies will always be part of the future of automotive safety," said Baumann. "That's why we are dedicated to taking good care of them."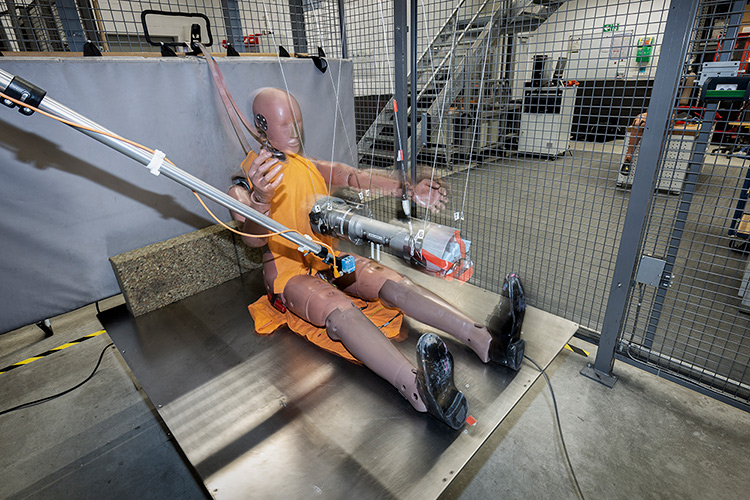 Send us your questions, thoughts and inquiries or engage in the conversation on social media.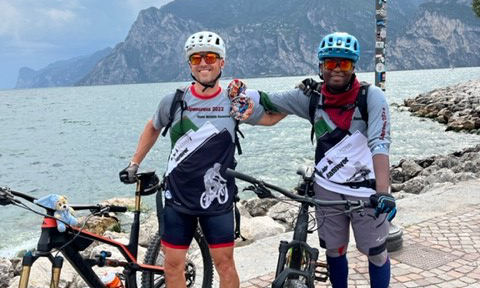 Epic Road Trip, Powered by Magna Collaboration   
Article

Go Move: Pollinating Ideas to Protect the Planet
Blog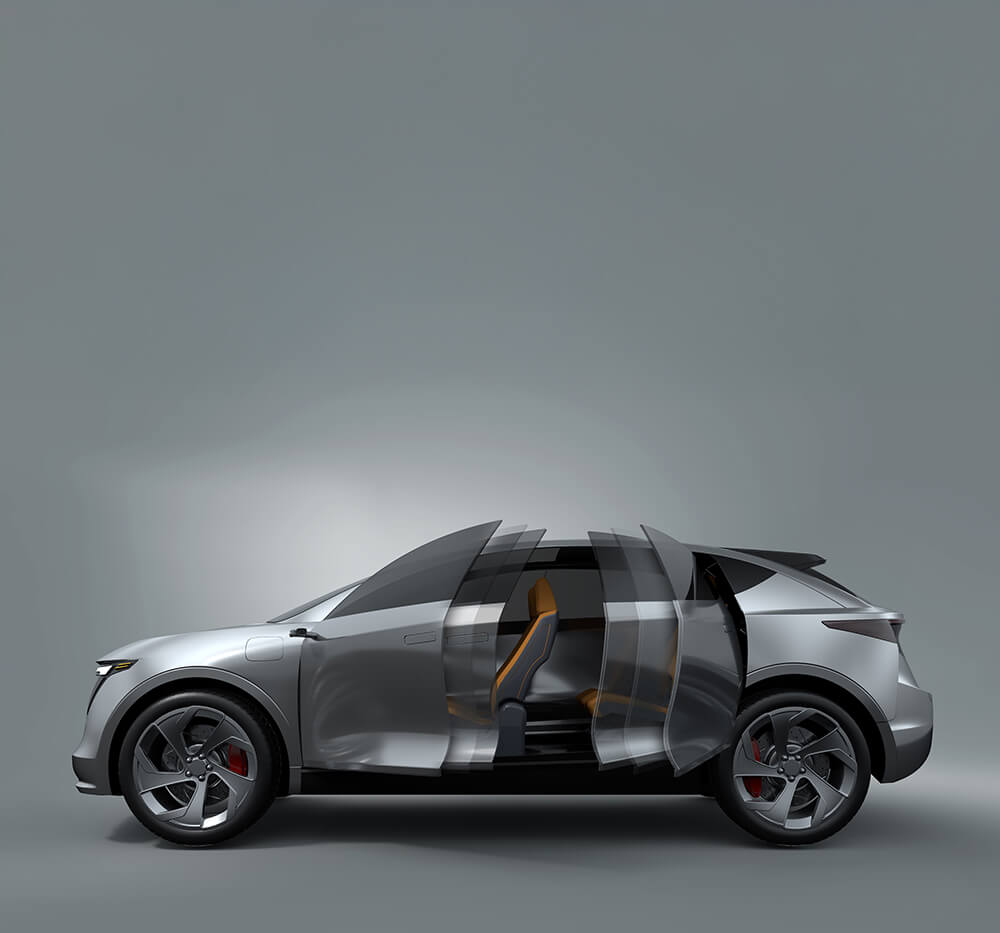 SmartAccess: Inspiring the Next Generation of Door Styles
Blog
You can stay connected with Magna News and Stories through email alerts sent to your inbox in real time.