Growing up, I struggled with the idea of embracing my Indigenous identity. My family is Ojibwe, from the Chippewas of Rama First Nation, near Orillia Ontario. Our culture was always important to us, but we kept it to ourselves. We feared not belonging.
After my "gookomis," the word for grandmother, passed away, our family from Rama encouraged my mother to get our "Indian Status" and return home. We were excited to reconnect with our heritage and community. It took my mother almost 10 years to obtain her Status, and then my sisters and I followed suit.
Returning to the community, we felt like imposters claiming a heritage that wasn't truly ours. When my mother got her Status, the first thing she heard was "welcome home." I had a similar experience when the Chief's daughter greeted me, saying "Oh yay, another light-eyed Anishinaabe woman!" The reaction was surprising to me and my family, but in the best way.
After that, I started incorporating elements of our culture into my daily life. It felt natural to me. I have a shelf at home where I keep my regalia, feast bundle, gifts from elders, and our four sacred medicines: tobacco for gratitude, sweetgrass for balance and community strength, sage for protection and positive energy, and cedar for cleansing and safety.
My most cherished possession is my ribbon skirt, symbolizing my womanhood and connection to Mother Earth. I made it myself in a traditional crafting class in Rama, where I also made my moccasins and jewelry. The class is appropriately called "The Art of Belonging."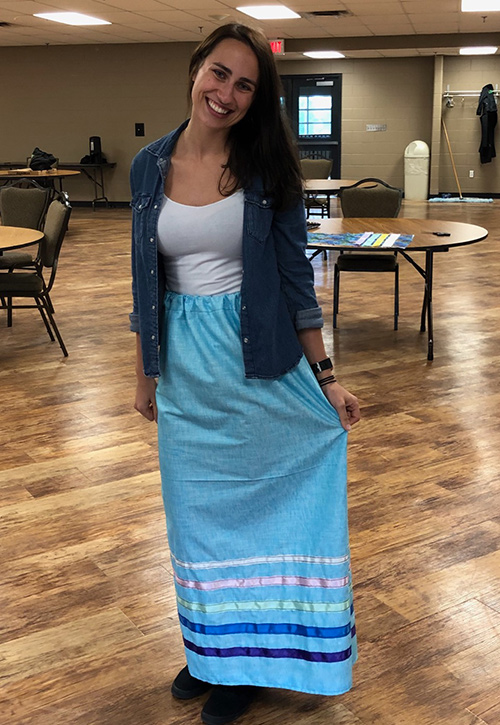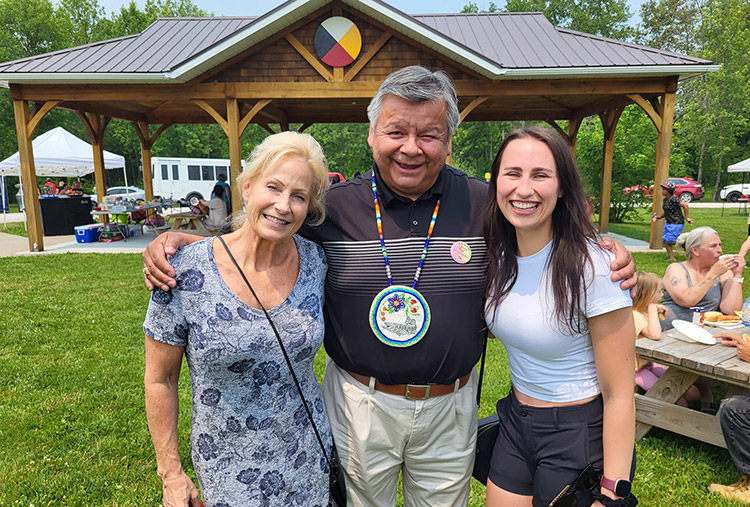 Through the process of obtaining my Status and reintegrating into my community, I've realized that I've let others dictate my "identity" for too long. I've had to constantly "prove" my belonging through external factors like knowing the language, attending ceremonies, owning regalia, and having Indian Status. But, I've also learned to take responsibility for allowing my own insecurities to shape my "identity."
I now accept that I don't just identify as Indigenous, I am Indigenous. And, I still have much to learn about my own culture. I'm certain I'm not the only one, either. I'm one of approximately 476 million Indigenous peoples across 90 countries with 5,000 distinct cultures.
As we observe the International Day of the World's Indigenous Peoples on August 9, it's important to remember the United Nations designated this day to raise awareness and protect indigenous rights. This is a time for understanding and breaking barriers.
By embracing my indigenous heritage, I have become more confident and empathetic. I try to practice this empathy every day through my work, at Magna's Deco Automotive facility, where we have a diverse workforce. By understanding others and their stories, I've built great relationships, in the hopes of inspiring others to do the same.
Everyone has a story, and today we acknowledge Indigenous stories. I simply ask that we approach them with an open mind and listen.
Send us your questions, thoughts and inquiries or engage in the conversation on social media.

Magna Commitment to Sustainability Award Winner: Involve Everyone
Article

Magna Commitment to Sustainability Award Winner: Advancing Circular Manufacturing
Article

Magna's Most Ambitious Environmental Commitment
Blog
You can stay connected with Magna News and Stories through email alerts sent to your inbox in real time.