News Release - Magna Expands Powertrain Business in Slovakia
First powertrain metalforming solutions plant in Europe 

7,675-square-meter facility to be completed in March 2021

Magna provides sustainable, innovative powertrain solutions for today and the future
Click here for the PDF version of the release
SAILAUF, Germany, August 24, 2020 — Magna will expand its powertrain business with a new facility in Kechnec, Slovakia, the first powertrain metalforming solutions plant for the company in Europe. Magna held a groundbreaking ceremony where construction of the 7,675-square-meter (82,600-square-foot) facility is expected to be complete in March 2021. The event was attended by local government officials and Magna executives.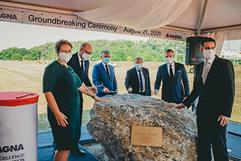 This new plant expands Magna's powertrain capabilities within the region and brings additional capabilities to its Kechnec campus. The neighboring transmission plant was opened 15 years ago by Getrag, which Magna acquired in 2016 and currently makes transmissions for BMW Group. Magna's long-standing relationship with the local community and education system will help ensure a pipeline of highly skilled employees for its Kechnec operations.
"It is an exciting time in the automotive industry and for Magna, especially in our powertrain business," said Tom Rucker, President Magna Powertrain. "We stand ready with our products at the forefront of electrification and a portfolio that provides sustainable, innovative powertrain solutions for today and the future."
The new metalforming plant is expected to start production in August 2021 with a workforce of approximately 50 people, and marks Magna's fourth location in Slovakia.

TAGS
Slovakia economic development; automotive powertrains
INVESTOR CONTACT
Louis Tonelli, Vice-President, Investor Relations
louis.tonelli@magna.com, 905.726.7035
MEDIA CONTACT
Tracy Fuerst, Vice President of Corporate Communications & PR
tracy.fuerst@magna.com, 248.761.7004
ABOUT MAGNA
We are a mobility technology company. We have over 152,000 entrepreneurial-minded employees, 346 manufacturing operations and 93 product development, engineering and sales centres in 27 countries. We have complete vehicle engineering and contract manufacturing expertise, as well as product capabilities that include body, chassis, exteriors, seating, powertrain, active driver assistance, electronics, mechatronics, mirrors, lighting and roof systems. Our common shares trade on the Toronto Stock Exchange (MG) and the New York Stock Exchange (MGA). For further information about Magna, visit www.magna.com.
# # #
THIS RELEASE MAY CONTAIN STATEMENTS WHICH CONSTITUTE "FORWARD-LOOKING STATEMENTS" UNDER APPLICABLE SECURITIES LEGISLATION AND ARE SUBJECT TO, AND EXPRESSLY QUALIFIED BY, THE CAUTIONARY DISCLAIMERS THAT ARE SET OUT IN MAGNA'S REGULATORY FILINGS. PLEASE REFER TO MAGNA'S MOST CURRENT MANAGEMENT'S DISCUSSION AND ANALYSIS OF RESULTS OF OPERATIONS AND FINANCIAL POSITION, ANNUAL INFORMATION FORM AND ANNUAL REPORT ON FORM 40-F, AS REPLACED OR UPDATED BY ANY OF MAGNA'S SUBSEQUENT REGULATORY FILINGS, WHICH SET OUT THE CAUTIONARY DISCLAIMERS, INCLUDING THE RISK FACTORS THAT COULD CAUSE ACTUAL EVENTS TO DIFFER MATERIALLY FROM THOSE INDICATED BY SUCH FORWARD-LOOKING STATEMENTS. THESE DOCUMENTS ARE AVAILABLE FOR REVIEW ON MAGNA'S WEBSITE AT WWW.MAGNA.COM.