News Release - Magna Global Bold Perspective Award Inspires Future Design Solutions
• Contest challenged students to create futuristic vehicles designed around user needs
• North American finalist Chanwoo Park from College of Creative Studies claimed top prize
• Finalists from China and Europe also recognized
Click here for the PDF version of the release
AURORA, Ontario, December 9, 2020 – Chanwoo Park, a design student at College for Creative Studies in Detroit, has claimed the annual Magna Global Bold Perspective Award with his submission titled Medic Bay 2035. The awards were presented by Magna on December 3rd at a virtual event hosted by Car Design News.
   
 
Chanwoo Park from College of Creative Studies won
the top award for his Medic Bay 2035 Design
Park's concept imagines a vehicle that delivers health care services by transporting medical personnel and equipment to a patient's residence. Upon arrival the vehicle transforms itself into a rehabilitation space.
"The journey to recovery takes on new meaning when services come to you," said Larry Erickson, global director of Magna's exteriors design group. "This design was very compelling with its innovative exterior kinematics, advanced materials and unique propulsion solutions."
Park's entry also seemed especially appropriate for 2020. "I have not seen a design concept more 'of-the-moment' given the current situation in the world," said awards judge Brad Richards, Styling and Design Vice President at Harley Davidson. "It's refreshing to see younger generations reaching out to the more senior members of society and applying new thinking like this."
"We asked students to look for low-barrier solutions that allow everyone the freedom to travel, work and live with ease," said Magna Exteriors President Grahame Burrow. "The students' use of innovative exterior panels, openings and materials gives us a window to see how future mobility can go beyond transportation to assist people with everyday tasks."
Europe finalist Matthew Lincoln from Coventry University in London earned second place with his Urban Escapism concept, his vision to enable future city dwellers to escape from busy city life. China finalist Angfu Li, from Zhejiang Sci-Tech University in Hangzhou, China, was the overall third-place winner with his off-road luxury vehicle design Cross Alps.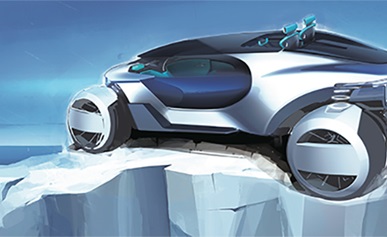 Cross Alps from Angfu of Zhejiang Sci-Tech
University in Hangzhou, China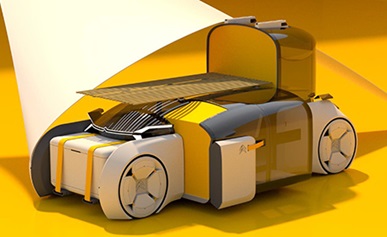 Urban Escapism from Matthew Lincoln of
Coventry University in London
Magna created the Global Bold Perspective Award in 2018 to showcase student vehicle designs of the future. The automotive design competition calls for entries from students in North America, Europe and China, who then compete for the top prize in the fall of each year.
TAGS
Automotive exteriors, innovation, student design
INVESTOR CONTACT
Louis Tonelli, Vice President, Investor Relations 
louis.tonelli@magna.com, 905.726.7035
MEDIA CONTACT
Tracy Fuerst, Vice President, Corporate Communications & PR
tracy.fuerst@magna.com, 248.761.7004
ABOUT MAGNA 
We are a mobility technology company. We have over 157,000 entrepreneurial-minded employees, 344 manufacturing operations and 93 product development, engineering and sales centres in 27 countries. We have complete vehicle engineering and contract manufacturing expertise, as well as product capabilities that include body, chassis, exteriors, seating, powertrain, active driver assistance, electronics, mechatronics, mirrors, lighting and roof systems. Our common shares trade on the Toronto Stock Exchange (MG) and the New York Stock Exchange (MGA). For further information about Magna, visit
www.magna.com
.
###
THIS RELEASE MAY CONTAIN STATEMENTS WHICH CONSTITUTE "FORWARD-LOOKING STATEMENTS" UNDER APPLICABLE SECURITIES LEGISLATION AND ARE SUBJECT TO, AND EXPRESSLY QUALIFIED BY, THE CAUTIONARY DISCLAIMERS THAT ARE SET OUT IN MAGNA'S REGULATORY FILINGS. PLEASE REFER TO MAGNA'S MOST CURRENT MANAGEMENT'S DISCUSSION AND ANALYSIS OF RESULTS OF OPERATIONS AND FINANCIAL POSITION, ANNUAL INFORMATION FORM AND ANNUAL REPORT ON FORM 40-F, AS REPLACED OR UPDATED BY ANY OF MAGNA'S SUBSEQUENT REGULATORY FILINGS, WHICH SET OUT THE CAUTIONARY DISCLAIMERS, INCLUDING THE RISK FACTORS THAT COULD CAUSE ACTUAL EVENTS TO DIFFER MATERIALLY FROM THOSE INDICATED BY SUCH FORWARD-LOOKING STATEMENTS. THESE DOCUMENTS ARE AVAILABLE FOR REVIEW ON MAGNA'S WEBSITE AT
WWW.MAGNA.COM
.