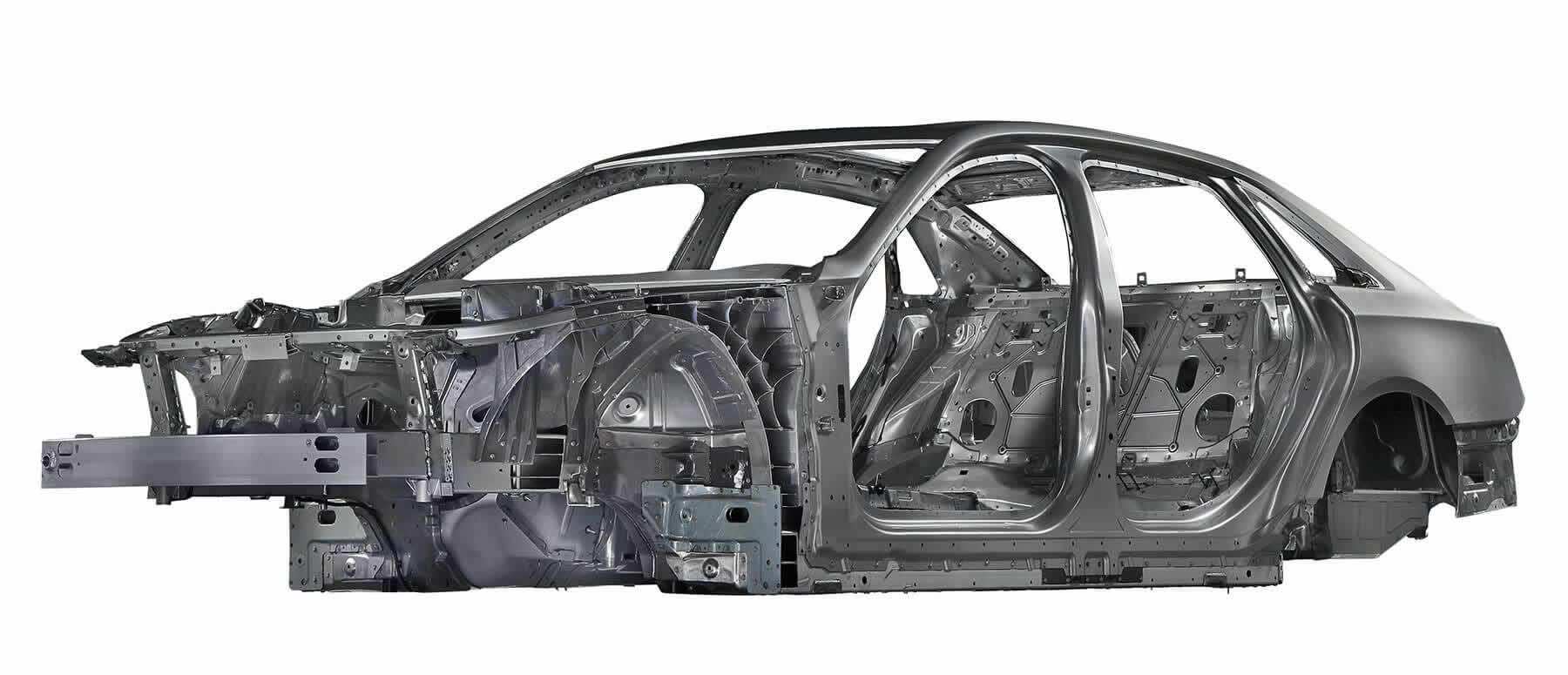 Complete body-in-white, components, and assembly
Magna Body and Chassis produces a complete range of lightweight steel & aluminum body-in-white ​solutions including battery trays, and fully-assembled body-in-white modules.​
Creating the Structural Backbone of the Vehicle
In-house Expertise for all Product and Process Areas
Underneath the exterior panels of every vehicle resides its structural backbone, including complex assemblies such as frame rails, floor pans, upper body pillars and body side structures. Through the innovative use of advanced high strength materials and manufacturing processes, Magna continues to develop body structure solutions that meet or exceed customer specifications for weight and crash performance. Most recently, Magna has pioneered the use of thin wall aluminum castings for body structure applications.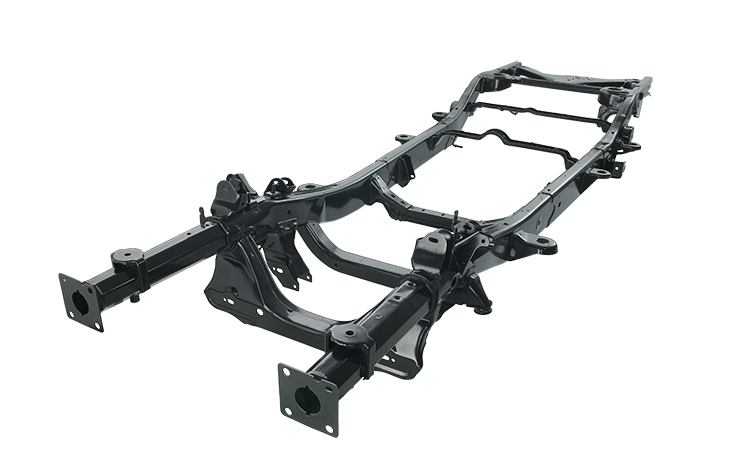 Magna offers the complete array of battery tray production and engineering solutions. The battery tray contributes to the structural and safety aspects of the body in white while protecting high-voltage batteries from damage and water. These complex assemblies are available in steel, aluminum, and multi-material configurations including lightweight composites.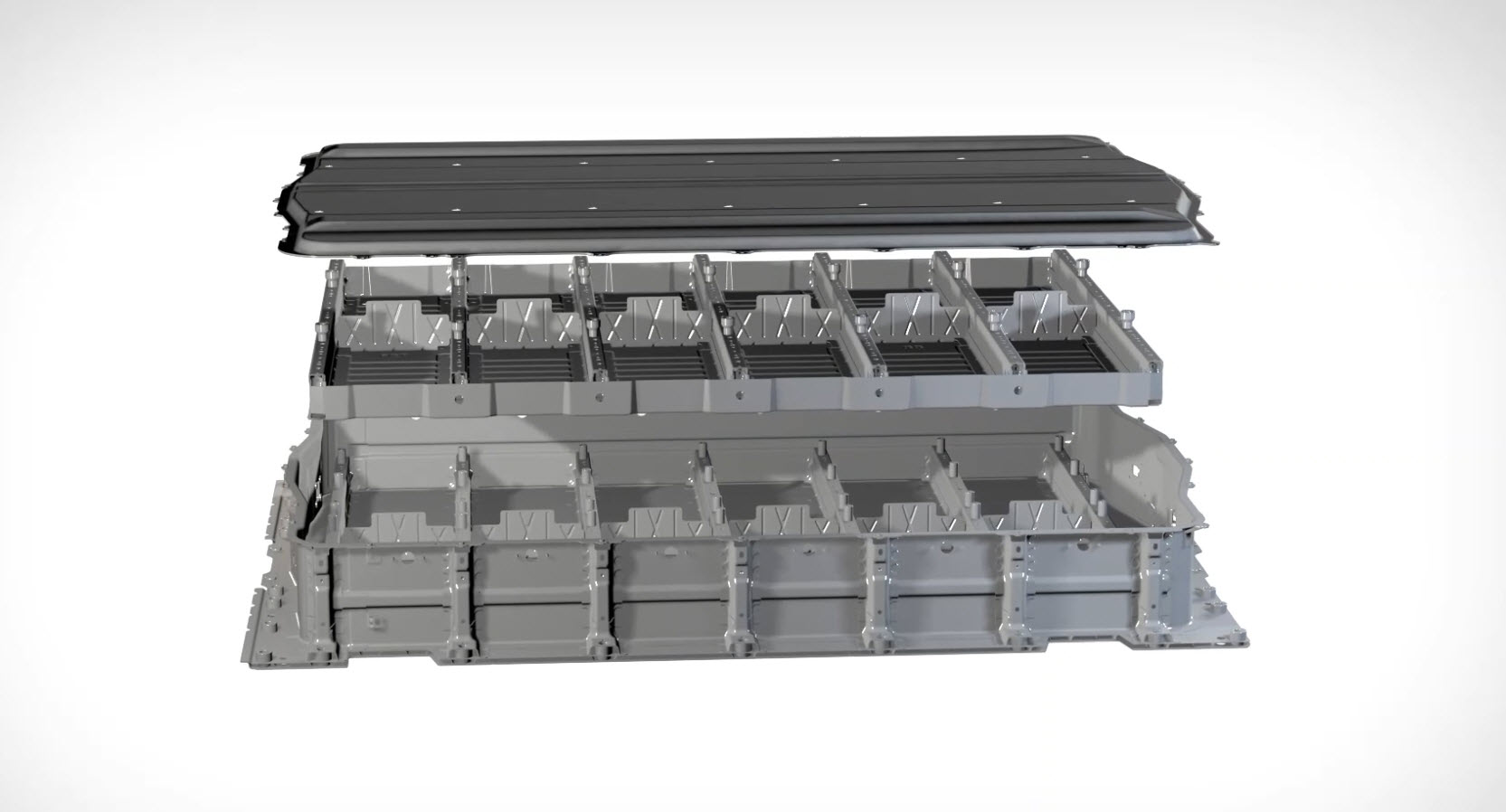 The Composite EV Battery Cover allows for the creation of large, one-piece solutions with complex geometry.
This lightweight, one-piece cover provides up to 30% reduction in tooling investments, and our sheet metal compound (SMC) material enables a variety of packaging options.
SMC is uniquely suited to battery cover applications as it is a high-performing, flame-retardant material that meets the most stringent testing level for thermal events. It can be tailored to meet OEM-specific needs for glass content, design, and flammability protection.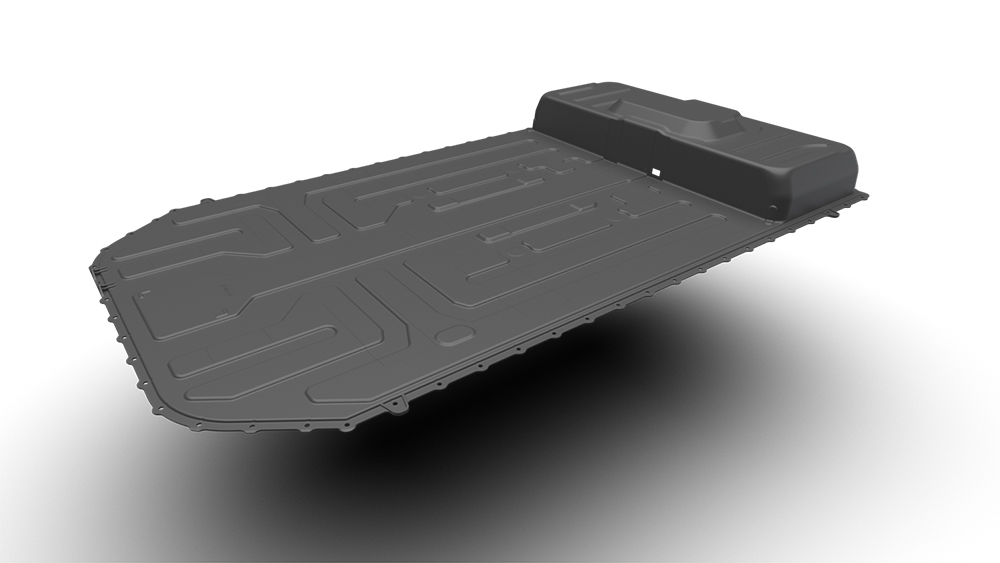 Energy Management Solutions
Magna delivers innovative energy management solutions with innovative manufacturing processes and extensive experience forming ultra-high strength materials. Along with bumpers and door intrusion beams, energy management has broaden the range of vehicle systems and components it affects, including body pillars, rockers and roof rails. Magna is proactively applying its materials and process experience in these key areas.

Magna has taken an industry lead in bringing the hot stamping forming process to body structure applications, especially in areas where vehicle crash performance must meet ever-increasing government standards. Hot stamping allows for the forming of complex part geometries, traditionally achieved only through the cold forming of mild steels. With hot stamping, the final part achieves ultra-high strength material properties. Applications of this process include body pillars, rockers, roof rails, bumpers and door intrusion beams.

Advanced High Strength Steels
Magna continues to be a market leader with innovative applications for advanced high strength materials. In order to provide both cost effective and weight conscious solutions to its customers, Magna is focusing on forming materials that can fully optimize vehicle performance without compromising quality, cost or weight.

As the need for lightweight automotive designs grows, Magna has added aluminum casting to its portfolio of process solutions. We provide two variations of the casting process—high-pressure vacuum casting and traditional low-pressure casting—to achieve complex shapes for critical areas of body and chassis structures. By providing customers with innovative design options, Magna continues to lead in lightweight structures.

High Pressure Vacuum Casting
Many areas of the vehicle body require complex, multi-component welded assemblies. These areas can benefit from the use of Magna's high pressure vacuum casting technology. Known as High-Q-Cast™, it combines leading product and process engineering with advanced alloy selection and manufacturing. The result is aluminum castings which significantly reduce the number of components in a vehicle. Magna's innovative joining methods are then used to integrate these castings into the vehicle body.