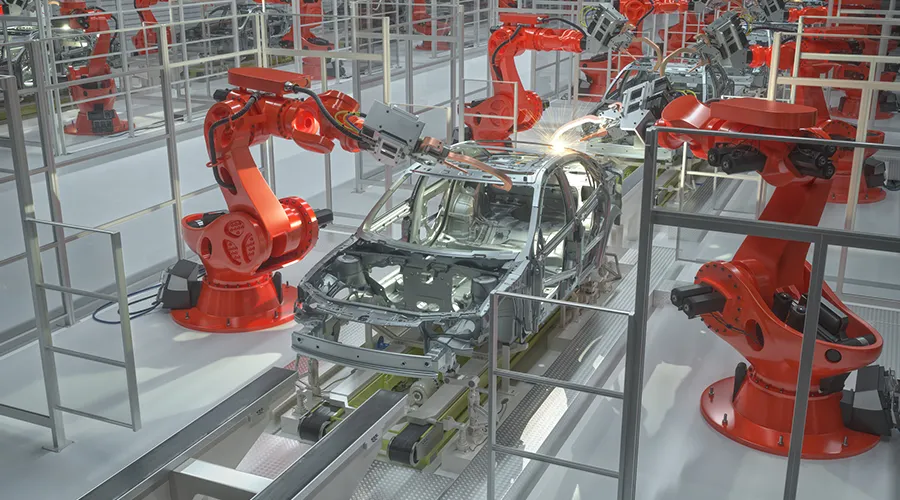 Planning to Set Up a New Vehicle Production?
Here is What to Look Out For.
Dietmar Kleindienst
December 07, 2022
8-min read
Automotive production is challenged by global megatrends, the shift to electric propulsion systems, disruptions in supply chains, as well as shortages of material and labor. For new entrants, the challenge is organizing and preparing everything for a successful start of production. Established automakers, in turn, need to adjust their production to the changed circumstances to stay competitive. Common issues include integrating models that do not fit very well with the carefully optimized production chains or expanding into new markets – either in terms of vehicle segments or geographic regions.
Established vehicle manufacturers usually have a solid customer base and a relatively secure market position, whereas new entrants are still in the process of getting settled in the industry. Not all of them are successful for several reasons. What new entrants can do, however, is study the most common reasons for failure and incorporate them into their plans.
Whatever the individual challenges for an automotive business are, cooperating with an experienced contract manufacturer can be a good solution. For example, such a cooperation relieves the internal capacities of new and traditional OEMs and provides extra flexibility for them. Additionally, a good partner will bring a lot of experience and specialized know-how to the project.
BUILD UP YOUR VEHICLE PRODUCTION - THREE MAIN STEPS
But first, let's briefly review the mainsteps that are necessary to build up a vehicle production. Although details may differ between new and traditional vehicle manufacturers, they still need to address the same basic points.
Step 1: Drawing up Vehicle Manufacturing Plant Setups
Production Volume is Key!

The production volume is one of the most important figures of the complete vehicle project, as it is key to ensure maximum efficiency and thus, financial success.
On one hand, producing more cars requires more material, time, and manpower. On the other hand, it is easier to convince suppliers to cooperate if the production volume is higher. Ideally, suppliers may even set their own production close to the production site for lower transport costs. Furthermore, higher production volumes usually mean higher degree of automation in production. Highly automated plants can produce faster, but only for very high production volumes and usually just for a limited range of vehicles. If production volumes are already low to begin with, it's generally more sensible to focus on differentiation rather than efficiency. This way, more vehicle series can be built at the same plant.
Greenfield vs. brownfield
After the production volume has been defined, the next step is to obtain the plant itself. For this, there are two approaches:
Greenfield – building a completely new production site from the ground up
Brownfield – adapting an existing production site to fit the EV startup's needs
Greenfield allows full control over the plant's layout, workforce, technologies, sustainability measures, and more. Brownfield, on the other hand, mitigates most legal frameworks, requires little production ramp-up, and may also come with an experienced workforce. It's usually cheaper to buy a plant than to build one. Thus, brownfield is usually the better approach for new entrants.
Step 2: Choosing the Production Site for Your EV Startup
Choosing the ideal production site raises several questions:
Which country to produce in?
The first decision is what region the vehicle should be produced in. In general, it is recommended to settle at least parts of the complete vehicle production in the target market to minimize transport and import costs.
Depending on the country in which the site is located, the project's time and cost conditions will alter significantly. Each country has its own set of permits, laws, taxes, funding programs, and sustainability policies, which all factor into how long it takes until the factory can be built.
Which characteristics should the site location have?
In addition to legal conditions, several other factors play in as well:
How resilient is the supply chain? Does an existing supplier base exist nearby? How close are railway lines, ports, etc.?
How frequently do natural disasters such as earthquakes, coastal flooding or extreme weather conditions occur?
How economically friendly is the region? Are permits easily obtained? Do training centers or cooperation programs with colleges exist? Is it part of a free-trade zone?
Are (renewable) energy sources easily available?
How can the local workforce be attracted? What working conditions and benefits (such as daycare) do they expect? How high is the cost of living in the area?
What should the production site have?
Aside from the location's conditions, the site's characteristics itself must also be considered:
Masterplan: What dimensions does the factory have? What do its blueprints look like, etc.?
Infrastructure: How can the site be supplied with water, energy, etc.? How can it be connected to existing roads, railway lines, ports, etc.?
Supply chain: What does the supplier landscape look like? How close are core suppliers? How many suppliers are there? etc.
Competition: Which existing manufacturers exist close to the site? Are they a potential threat in terms of suppliers, workforce, etc.?
Timing: How long does it take to obtain all necessary permits? How long do zoning, construction, and ramp-up take?
Green factory: How sustainable is the factory? How much can it be powered by green energy? How can pollution be minimized, etc.?
People/organization: What skills are needed? How many people are needed? How should they be trained, etc.?
Step 3: Looking for Production Partners
Setting up a plant and then getting it to work properly requires several years of planning, financing, and process mapping. The skills required for such an endeavor range from automotive experience to legal knowledge to expertise with human resources. Managing all this alone is a gargantuan task – and may not be the best way to do it.
A cooperation with a competent production partner speeds up this process, as they already possess a proven process landscape that can be adapted to accommodate the conditions found on a new site.
Production ramp-up and launch risk
Product, Process, People, Parts – these "4 Ps" are the main challenges to resolve to ensure a flawless SOP. Magna's launch processes are designed around those conflicts. Therefore, we can also provide proven concepts for building, training, and maintaining a professional workforce. And finally, our network of partners and suppliers, as well as our experience in logistics, offers new entrants a solid ecosystem to thrive in.
But is a development/production partner affordable for my project?
The services of a partner will, of course, add to the list of expenses – and might strain the financial reserves of a new entrant even more.
However, on top of its services, a partner like Magna brings its experiences, ecosystems, and industry network to the project.
These are important assets that take considerable time and experience to build. The cooperation with an established name will also make the search for investors and suppliers easier. All in all, a competent partner helps new entrants to get to the market faster and more efficiently.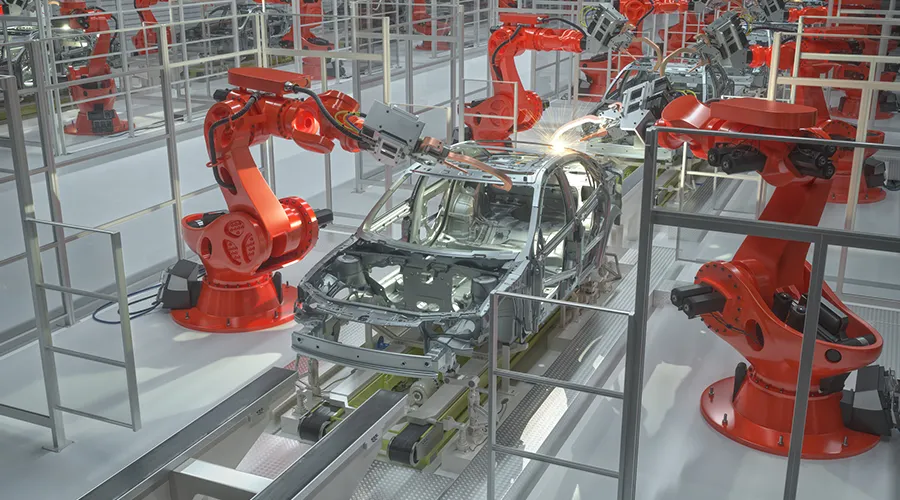 4 ESSENTIAL FACTORS FOR EXPANDING YOUR AUTOMOTIVE BUSINESS INTO NEW MARKETS
If an automotive startup successfully launches in one market, expanding into new markets is a logical next step. And with EVs on the rise, both new and established OEMs plan to introduce their EVs to new markets quickly.
Factor 1: Why This market?
The first question is to analyze the exact motivation for expanding into a new market. The two most common reasons are:
The home market is oversaturated and no longer provides sufficient growth.
The target markets are promising, have an available market niche and/or lack competition.
In both cases, a business should only enter a new market if the motivation behind this strategic action is based on and validated by in-depth market studies.
What's the best time to enter a market?
At the moment, the shift to electric vehicles is opening new niches, as the hurdles for market entry decrease. Nevertheless, entering a new market requires considerable resources and commitment over several years. Thus, expansion is only recommendable if the existing markets are sufficiently stable, and the required resources and finances are available.
Other than that, there is no specific optimal time for market expansion. Special opportunities may come up, such as a key player suddenly disappearing from the market, but still, it is always smarter to take a balanced and thought-out approach. A market entry is never advisable without first having the necessary strategy, budget, and partners.
Is a global release feasible for startups?
Of course, it's possible for startups to aim for a region-wide or even a global release with their automotive business. The advantage of this is that it allows for a considerably larger target audience, and a larger audience means there could be an increased production volume. Aside from the potential to generate more revenue, larger production volumes also benefit from economies of scale, which makes it the more efficient long-term solution.
However, startups often prioritize short-term establishment over long-term revenue, and given the sharp increase in costs and project complexity, such a step should only be taken with caution.
Factor 2: How Should the Market be Entered?
Success in the market is rooted in a good market entry strategy. This strategy should be based on both a comprehensive market analysis and awareness of the business's own values and goals. The two key questions are how the new market should be entered, and which partners for distribution and localization are necessary.
Localization and choosing the best market entry scenario
First, it is essential to establish how many tasks of the production processes should be set up into the new market. Body-in-white, painting, general assembly, and certification may all be kept in the country of origin, depending on the existing conditions. Production volume, supplier networks or customs/tariffs vs. set-up costs all need to be factored in when deciding the right scenario. Read more about four different market entry scenarios here.
What skills should be brought into the new market?
It is possible that certain important skills for the automotive project don't yet exist in the target market. In such cases, it may become necessary for specialists from the market of origin to oversee operations and/or train new employees at the new site.
This need for specialists is not restricted to technical skills either. If a business expands into a new market, its business culture comes with it. To bridge the gap between local workforces, customers, and partners on one side, and the newly arriving business on the other, experts on business culture are required. HR departments, sales, and purchasing skills are also needed to ensure a mutual understanding of one another.
Factor 3: Which Partners are Needed/Beneficial for Entering the Market?
Getting the right partners on board is beneficial (and sometimes necessary) for succeeding in expansion efforts. Local partners provide valuable insights into the specifics of the market, while global partners provide the capacities and knowledge required to set up an automotive business in a new region.
Choosing suitable local partners
First, local partners are often essential for getting a clear picture of the market. Understanding all necessary legal guidelines, standards, and conventions of a country or region can only be done if the team seeks the support of local specialists who can assist them with the necessary research and paperwork.
Moreover, local customs and work conditions differ significantly between markets. Wage levels, benefits, unions, or culturally specific needs can all pose different challenges. This can be the case even if the source and target markets are located close to each other. Getting a local partner on board becomes necessary as soon as a larger local workforce or target demographic is part of the market entry strategy.
Teaming up with well-matched global partners
While local partners can help a business to become familiar with region-specific customs and conventions, a global partner like Magna can aid in the entry process itself. From obtaining permits to site selection and ramp-up to complete vehicle development, a partner with international standing and expertise may provide a significant boost in speed and efficiency for the technical side of things.
Factor 4: What Unique Challenges Does the Market Present?
The global automotive industry is extremely diverse. Every market provides its unique challenges and conditions, which expanding businesses need to become familiar with before they implement their entry plans.
Which local customs and conventions shape the market?
When entering a new market, a business naturally enters a new social world as well. Social standards, family structures, religious or ideological beliefs, and even business culture or working standards may all be very different in a new market. As such, a business may find vastly different standards than what they are used to in terms of what their customers value, what their partners expect, and what their workforce demands from them.
Likewise, the culture of the business itself will also become part of a new market. New employees and partners will need to familiarize themselves with the values of the newly arriving business.
What does the overall legal situation look like?
Each region is also unique due the specifics of its overall legal environment. For example, sustainability standards and guidelines are usually considerably stricter in Europe than in most other regions.
Similarly, some regions may be economically friendlier than others. The US, for example, not only has a sizable market, but its membership in numerous free trade zones allows access to vast supplier and vendor network potential extending from the Pacific Ocean to the Mediterranean Sea.
How established is the competition?
Each region is also unique due the specifics of its overall legal environment. For example, sustainability standards and guidelines are usually considerably stricter in Europe than in most other regions.
Similarly, some rr brand-independent partners, such as Magna, cooperating with startups is a part of their daily business. They do not have a vendor and after-sales network – but, having no own vehicle portfolio, they are free to realize vehicle projects according to their customers' individual wishes.
WHY DO VEHICLE STARTUPS FAIL IN THE FIRST YEAR? HERE ARE 5+1 REASONS
The transition towards electric mobility has opened the automotive industry for new and innovative startup ideas. But not all new automotive players trying to enter the market are successful in doing so, or can secure their long-term market share. In the following, we will discuss the 5+1 most common reasons why some automotive startups could potentially fail within their first year of business. We will focus on areas that can be mitigated or even avoided if they are considered in time.
Reason 1: Lacking Understanding of the Target Market
Both investors and development and manufacturing partners require a solid business case based on conclusive market research.
This should be at the very top of every startup's to-do list and be conducted as early as possible.
A market analysis should answer the following questions about the target market:
How large is the market?
What's the expected market performance? How many vehicles can potentially be sold and in what timespan?
What demographic/psychographic traits define the market?
What prices will be accepted by the end customer?
What does the target audience expect from their vehicle in terms of features and functions? Which features are most important to them?
What regulations or legal requirements are relevant for the market?
What trends and developments of the market should be considered?
Which competitors are present in the market?
The market study is the document that sets the framework in which the future business will operate, which means it is necessary for creating a strong business case and subsequently getting partners and investors on board. Even the most convincing idea will not get support if the expectations in terms of revenue, shares and profits are too far from reality.
Reason 2: Troubles in Finding and Keeping Investors
Financial demands for an automotive startup are enormous. New entrants will therefore need to find suitable long-term investors before any actual automotive development can start. But getting those investors on board and keeping them in the project is a challenge.
Investors are cautious when it comes to vehicle startups
In general, new players in any market are a rather uncertain business endeavor for investors. They naturally do not yet have the long-standing presence of established competitors in the market. This means that from the perspective of an investor, they may be supporting a business whose long-term success is not yet secure. This can deter some investors and may be a hurdle for new entrants to overcome.
Teaming up with an experienced development and manufacturing partner with a well-known name gives additional credibility to the startup.
Startups must convince investors throughout the project
Even with the investors on board, there is no guarantee for their continued support of the project. Whether unforeseen difficulties in development, a changing market situation, or investor-specific reasons, investors may lose faith or interest in the new entrant, their vision, and their ability to finalize the project and gain the expected profit margin.
Startups need to continuously prove their vision's legitimacy. To this end, communication, timing, and passion are vital. Schedules need to be conceived accurately beforehand and then followed through. Communication must be kept transparent, and meaningful updates on the project must be conveyed frequently.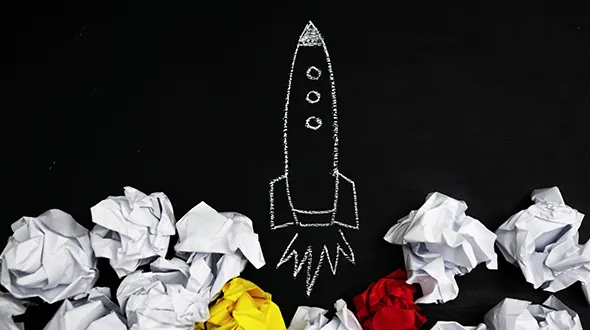 Reason 3: Not Aquiring Suitable Development and Manufacturing Partners
Just as investors provide the financial foundation for an EV project to get going, the technical requirements need an experienced development and manufacturing partner to be implemented properly. Without such support, it could be much harder to follow through with the project and to transfer the initial idea into more concrete concepts.
Development and manufacturing partners can support an automotive startup in several ways. They validate the initial product vision in an early phase, well before development starts, which helps the project to take off into the right direction. Consequently, it is easier to find the ideal target market and investors for the project. Competent partners can also handle the complete vehicle development process from the first conceptualization of the complete vehicle down to singular components. And they can provide up-and-running manufacturing sites, including the necessary processes and workforce to start production swiftly and easily. However, there are a number of reasons why a cooperation might not work:
The development and manufacturing partner's services fit the startups needs
A startup can either cooperate with an established OEM or an independent partner. As the most common distinction, OEMs are selling their own branded vehicles, while brand-independent partners are not. Hence, their range of services as well as the attached preconditions differ substantially.
If you manage to find an established OEM that is willing to cooperate, the OEM might even offer access to their vendor and after-sales network, which can be seen as a big benefit. However, the cooperation may come with other limitations, such as using the OEM's platform with limited adaptations, or restrictions as to where and how the startup's vehicle can be sold.
For brand-independent partners, such as Magna, cooperating with startups is a part of their daily business. Such partners usually do not have their own vehicle portfolio and after sales network, which results in the freedom to realize vehicle projects according to their customers' individual wishes.
The business case does not convince the partner
A development and manufacturing partner may also choose not to support a startup if the idea itself is not convincing. For example, some EV visions may seem feasible at first, but prove to be impossible to realize technologically or economically when reviewed by experienced experts.
Reason 4: An Unrealistic Business Case
The business case is the comprehensive and detailed answer to one basic question: How does the project create value for a business partner? As such, it's the most important document any potential partner will look at before deciding whether to cooperate.
Many startups start their journey highly optimistic – sometimes, too much, leading to an overestimation in the expected revenues. Potential mistakes could be setting the target audience too large, increasing the price range without adjusting the customer base accordingly, or only regarding the most optimistic scenarios. This makes an EV project sound more profitable than it actually is.
Also on the technological side, startups can fall into several traps. The most common issues are misconceptions about the cost of certain technologies or wrong assumptions about which innovations are already suitable for series production.
Reason 5: Underestimating EV Vehicle Development and Manufacturing
As we stated before – the EV market is full of opportunities, and the right time to enter it is right now. However, that does not mean that a successful market entry is a quick and easy endeavor. Firmly establishing a new business in the automotive industry is far more challenging and time-consuming.
Underestimating time requirements
Many automotive startups are under time pressure to get their production running, generate revenue, and enter a certain market niche before competitors do. However, it is still essential to focus not just on a timely SOP, but to calculate enough time for the entire process, thoroughly plan key milestones, and consider essential prerequisites early enough.
Underestimating the complexity of vehicle development and manufacturing process
As soon as the preparatory work is finished, the concept phase starts. During this phase, a lot of tasks suddenly appear all at once and for many new entrants, this is when the sheer size and depth of vehicle startups really starts to show.
First, the vehicle idea itself will now be compared to similar models. Vehicle targets will be specified, and the complete vehicle is broken down into thousands of objective and subjective measurements that it needs to reach. All of those need to be tested, validated, and consistently worked through until it is clear which components and systems are needed to get all of them into one complete vehicle.
Another task that often begins in parallel with the concept phase is the site selection process for the vehicle production. This requires a lot of planning and preparation, particularly if the factory needs to be set up from scratch. Permits need to be obtained before any work can occur. Its infrastructure, supply chain, and manufacturing processes need to be optimized, a workforce must be recruited, trained, and retained, and a suitable ecosystem of hundreds of suppliers must be established.
Financial requirements can exceed the EV startup's resources
Setting up and maintaining all these factors requires considerable financial means – often more than initially anticipated. The sudden increase in resources, time, labor, and energy can strain or even exceed the startup's financial resources.
Reason 6: Bad Luck
Even with all the detailed planning and taking all precautions, success is still not guaranteed – unfortunately. The potential reasons for failure are infinite, and it is impossible to anticipate all of them. What can startups do? On one hand, they need to recognize potential mistakes that can be fixed by research, preparation, and acting accordingly. On the other hand, it is also essential to recognize the factors they are not responsible for. The key to success in dealing with unforeseen events is to think and react quickly with an appropriate response, even if no plan or analysis has been prepared.
CONCLUSION
Whether it is the expansion into a new market or a new vehicle segment, finding suitable arrangements for niche or phase-out models, or bringing the first model of a new vehicle brand to the market – when preparing an automotive production, traditional and new OEMs face a significant amount of preparation and planning.
Even if a vehicle startup has successfully done its first steps, long-term success is not guaranteed. However, attention to a few key issues helps to mitigate those risks that can be avoided with solid preparation.
Whatever the exact challenge is, working with an experienced contract manufacturer such as Magna can help OEMs solve their tasks more efficiently and more successfully. With a global presence of production sites and engineering centers, and most importantly, with sound experience from many successful automotive projects, Magna is prepared to support new and traditional vehicle manufacturers in reaching their goals.
You can stay connected with Magna News and Stories through email alerts sent to your inbox in real time.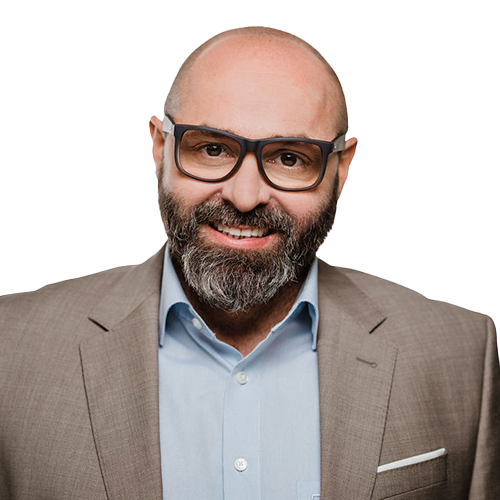 Dietmar Kleindienst is Director of Key Account & Business Development for North America Region and new entrants on a global base of Magna Steyr since 2021. He joined Magna in 1994, and before he joined the Sales & Marketing organization in 2018, Kleindienst held several operational and management positions in Supply Chain Management, Manufacturing Engineering and Program Management in Graz, Austria and within abroad assignments in North America. He holds a degree in Industrial Logistics.
Send us your questions, thoughts and inquiries or engage in the conversation on social media.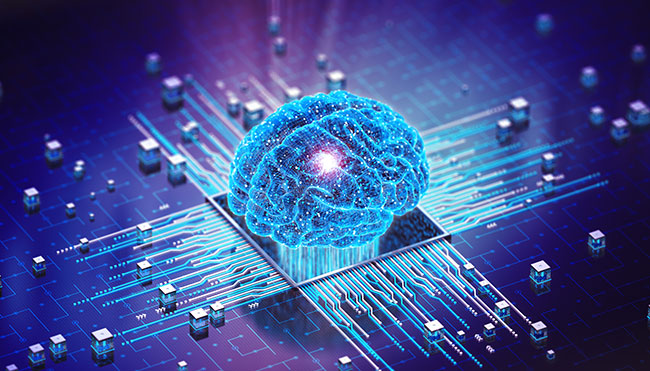 Vehicle Control Unit – The Mastermind Behind All Vehicle Functions
Blog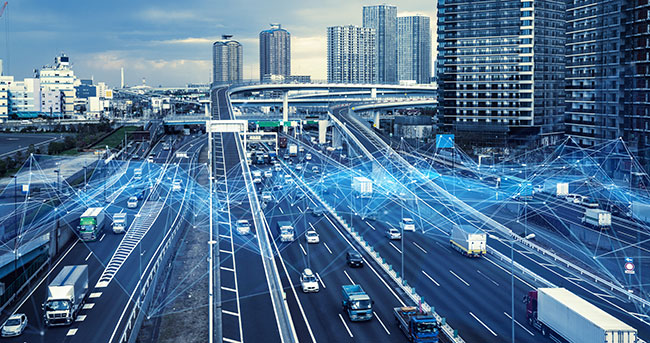 Cybersecurity in the Automotive Industry
Blog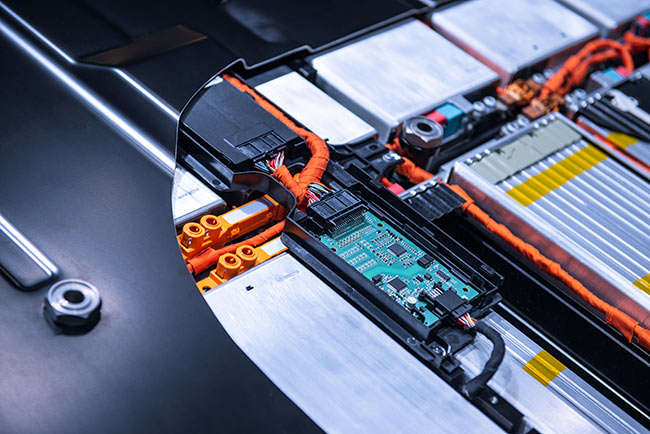 Battery Development for High Voltage Battery Electric Vehicles – A Supercharged Subject
Blog
You can stay connected with Magna News and Stories through email alerts sent to your inbox in real time.